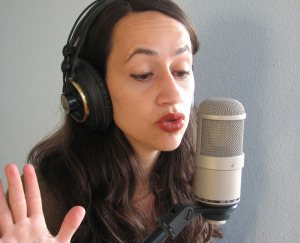 Ayana is a member and has been a soloist in Los Angeles Opera Chorus and Los Angeles Master Chorale, where she has sung everything from atonal 21st-century music to Anglican chant. Originally from Israel, she grew up singing Jewish music of all kinds, from klezmer to Middle Eastern. Ayana's voice can be heard on the film/TV/game soundtracks STAR WARS: THE LAST JEDI and THE RISE OF SKYWALKER, STAR TREK: DISCOVERY and PICARD, FROZEN II, AVATAR II: THE WAY OF WATER, , TRANSPARENT, CALL OF DUTY: BLACK OPS III and IV, MINIONS, MULAN, SPIDER-MAN: NO WAY HOME, THE LION KING, LOST IN SPACE, and many more.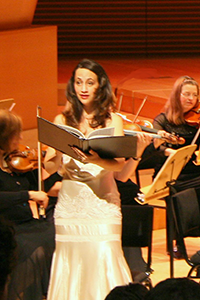 Ayana has recorded as both a soloist and ensemble singer on over 100 film, television, and video game soundtracks, as well as numerous video games and sound recordings. She has been a member of choruses specializing in vocal jazz, South African folk music, a cappella, Baroque and Renaissance music, new/experimental classical music, and Bulgarian women's folk singing. In 2007 she won a Grammy® as part of the chamber chorus Cappella, which recorded a baroque choral album, PADILLA: SUN OF JUSTICE, which won for Best Small Ensemble Performance.
Ayana is an excellent sightreader and is equally proficient and rapid in learning music by ear. She can blend like butter or provide a unique and beautiful lead spot. She can match tone and style, take musical direction well, speak both "composer" and "producer", and change styles at a moment's notice. She is also a charismatic live performer, and brings that energy with her into the studio.
Ayana can record and edit her vocals from home if necessary (with a Neumann M147 tube mic and Avalon M5 preamp) – and she does NOT need auto-tune!
Specialties:
Classical: opera, art song, oratorio, boy soprano, straight tone, atonal, choral. Pop, light jazz, light rock, indie/alternative, gospel, soul, R&B, country, musical theater, children's voices, characters, ethereal/ambient, animation. Slavic, African, Celtic/Irish, Middle Eastern, Israeli, American, Jewish, Klezmer, Ladino, Bulgarian, Balkan, & Yiddish folk music.
Recent Highlights:
Sang solo guide vocals for two songs by Lin-Manuel Miranda on Disney's ENCANTO
Featured on the original theme by Alexander Courage for the end credits of STAR TREK: DISCOVERY season 2 – which Jon Burlingame of Variety called "awesome – and that is not a term I use lightly" – as well as in the "Kasselian Opera" and "Andorian Opera" by composer Jeff Russo. Read about the experience
Sang with the Los Angeles Master Chorale for John Williams' score to STAR WARS: THE LAST JEDI and THE RISE OF SKYWALKER. Read about the experience
Featured on-camera as a campy, over-the-top Jewish wedding singer in the Season 2 premiere episode of Emmy-award winning show TRANSPARENT. Watch it here.
Sang the main title of the Netflix series CURSED by Jeff Russo, encapsulating ethereal to rock belting in the space of 1 minute
Contracted adult and children's choir, and was a featured soloist in classical/ethereal style, in the video game CALL OF DUTY: BLACK OPS III (composer Jack Wall). About our experience, Jack said: "I've worked with choirs all over the world, and the best one I ever had was the one you put together." Continued this collaboration with BLACK OPS 4 and COLD WAR.
Contracted, as well as produced, choir for Jack Wall's Russian-language score to CALL OF DUTY BLACK OPS COLD WAR. This score was recorded entirely virtually from the singers' home studios during lockdown. Listen to the tenors & basses sing the main theme here. Read about the process here.
Sang demo vocals for Sarah Silverman and Gal Gadot in character for Pixar's WRECK IT RALPH 2, and voiced the "Sewer Shark"
Sang an ethereal duet with Raya Yarbrough for Bear McCreary's score to FOUNDATION on Apple +
Was motion-captured and sang the character of an opera-singing animated alien for Rob Cairns on Netflix's LOVE, DEATH & ROBOTS
Featured solos in ethereal style in FORTNITE by composer Anthony Willis
Contracted soloists in styles ranging from West Coast 80s rap to Mandarin-language torch songs for the Infinity Ward team for the game CALL OF DUTY: INFINITE WARFARE
Featured solos in ethereal style with an ethnic flavor, in VENGEANCE: A LOVE STORY (composer Frederik Wiedmann)
Balkan and ethereal featured solos in the film THE NEXT THREE DAYS (composer Danny Elfman)
Two Little Mermaid character-voice solos on the Walt Disney Records album DISNEY ON BROADWAY which went viral on Instagram
Soprano soloist in Haydn's Heiligmesse, Handel's Messiah, Vivaldi's Gloria, and many more with the Los Angeles Master Chorale in Walt Disney Concert Hall
Recent live gigs include Hear Now Music Festival with new/experimental music sextet HEX Ensemble, Messiaen's "Trois petites liturgies" with the LA Philharmonic, OMAR with LA Opera, and the Messiah Project with Street Symphony Chamber Singers which was featured here.
View More Recent Projects