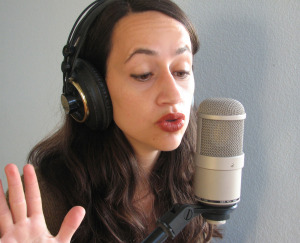 Ayana is a member and has been a soloist in Los Angeles Opera Chorus and Los Angeles Master Chorale, where she has sung everything from atonal 21st-century music to Anglican chant. Originally from Israel, she grew up singing Jewish music of all kinds, from klezmer to Middle Eastern. Ayana's voice can be heard on the film and TV soundtracks TRANSPARENT, ROGUE ONE: A STAR WARS STORY, AGENTS OF S.H.I.E.L.D., CALL OF DUTY: BLACK OPS III, SMURFS: THE LOST VILLAGE, DESPICABLE ME 3, SAUSAGE PARTY, TRANSFORMERS: THE LAST KNIGHT, THE JUNGLE BOOK, GODZILLA, TEENAGE MUTANT NINJA TURTLES, DAWN OF THE PLANET OF THE APES, AVATAR, NEED FOR SPEED, THE NEXT THREE DAYS, AGENT CARTER, WRECK-IT RALPH, BIG HERO 6, THE LORAX, SUPERNATURAL, and many more.
Ayana has recorded as both a soloist and ensemble singer on film and television soundtracks by Danny Elfman, Marco Beltrami, Michael Giacchino, John Powell, Aaron Zigman, Henry Jackman, James Horner, Stephen Trask, Harald Kloser, Christopher Lennertz, Sharon Farber, Penka Kouneva, Austin Wintory, Harry Gregson-Williams, Frederik Wiedmann, Heitor Pereira, and many others, as well as numerous video games and sound recordings. Ayana has been a member of choruses specializing in vocal jazz, South African folk music, college a cappella, Baroque and Renaissance music, and Bulgarian women's folk singing. In 2007 she won a Grammy® as part of the chamber chorus Cappella, which recorded a baroque choral album, PADILLA: SUN OF JUSTICE, which won for Best Small Ensemble Performance.
Ayana is an excellent sightreader and is equally proficient and rapid in learning music by ear. She can blend like butter or provide a unique and beautiful lead spot. She can match tone and style, take musical direction well, speak both "composer" and "producer", and change styles at a moment's notice. She is also a charismatic live performer, and brings that energy with her into the studio.
Ayana can record and edit her vocals from home if necessary (with a Neumann M147 tube mic and Avalon M5 preamp) – and she does NOT need auto-tune!
Specialties:
Classical: opera, art song, oratorio, boy soprano, straight tone, atonal, choral. Pop, light jazz, light rock, indie/alternative, gospel, soul, R&B, country, musical theater, children's voices, characters, ethereal/ambient, animation. Slavic, African, Celtic/Irish, Middle Eastern, Israeli, American, Jewish, Klezmer, Ladino, Bulgarian, Balkan, & Yiddish folk music.
Recent Highlights:
Featured on-camera as a campy, over-the-top Jewish wedding singer in the Season 2 premiere episode of Emmy-award winning show TRANSPARENT
Contracted mixed and children's choir, and was a featured soloist in classical/ethereal style, in the video game CALL OF DUTY: BLACK OPS III (composer Jack Wall)
Contracted soloists in styles ranging from West Coast 80s rap to Mandarin-language torch songs for the Infinity Ward team for the game CALL OF DUTY: INFINITE WARFARE
Featured solos in ethereal style with an ethnic flavor, in VENGEANCE: A LOVE STORY (composer Frederik Wiedmann)
Featured solos in rock and ethereal styles in the film NEED FOR SPEED (composer Nathan Furst)
Balkan and ethereal featured solos in the film THE NEXT THREE DAYS (composer Danny Elfman)
Featured solos in ethereal/ambient style in TV shows GALAVANT and AGENT CARTER, and Middle-Eastern style in SAUSAGE PARTY (all by composer Christopher Lennertz)
Featured solos in ethereal/ambient style in TV show AGENTS OF S.H.I.E.L.D by composer Bear McCreary
Middle-Eastern/African and ethereal/ambient solos in 6 episodes of the TV show THE GREEN LANTERN ANIMATED SERIES, 4 episodes of BEWARE THE BATMAN, and episodes of ALL HAIL KING JULIEN and MILES FROM TOMORROWLAND (all by composer Frederik Wiedmann)
Two Little Mermaid character-voice solos on the Walt Disney Records album DISNEY ON BROADWAY, a pop solo on DISNEY HOLIDAY MAGIC, and numerous Demi Lovato teen-pop songs for DISNEY'S CAMP ROCK 2 SINGALONG
Soprano soloist in Haydn's Heiligmesse, Handel's Messiah, the Jewish folk song "Aleih Neiri," and Vivaldi's Gloria with the Los Angeles Master Chorale in Walt Disney Concert Hall
View More Recent Projects